LEVEL UP YOUR WRITING with Kelly Exeter
Imagine your words getting greater traction, speaking with more authority and getting published on big sites. Would it change your life? Help you change the lives of others?
Level Up Your Writing provides one-on-one writing critiques to writers, bloggers and entrepreneurs who want to change the world with their words.
LET'S TAKE YOUR WRITING FROM GOOD TO GREAT
Register below for first option on a limited number of foundation memberships when I launch in July.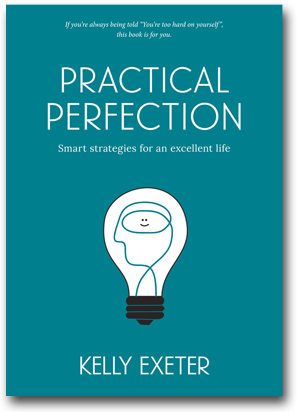 "Practical Perfection is a no-fuss, clear, concise read that is focused on teaching, but with just enough anecdote to make it relatable. Instead of telling you how to get over your perfectionism, it gives you permission to be a perfectionist. It provides a framework for managing it so you don't burn out, feel overwhelmed, or become the proverbial hamster on the wheel."



Praise for Your Best Year Ever
"The best half hour you can give yourself this year. Read this book. It will change the way you think. It will make you want to be nicer and kinder to yourself and make you believe that you really are capable of having your best year yet. And the best rest of your life. Simple and sound advice written in a very easily digestible format. Love the blueprint to keep."